Important Information About Online Banking

Your Credit Union is introducing new security enhancements to Online Banking to help keep your information safe. With these upgrades, you need to ensure the following:
You know your login credentials for Online Banking.
If you are a Joint Account holder, you have separate login credentials for Online Banking.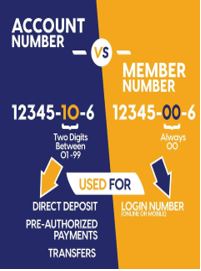 Why do I need to know my login credentials?


If you use the
Memorized Account
feature to store your member login number, you will need to re-enter this informaton along with your personal access code (PAC) the first time you sign into Online Banking after the upgrades are complete. If you would like to re-memorize your login details, you will have the option to select
Remember Me
, to save your information for future sign-ins.
Ahead of the upgrade, we recommend taking a momment to make sure you know your member login number and if needed, make note of this number somewhere safe.
Why do Joint Account holders need separate logins?


Having separate logins for joint account holders ensures that you don't experience interruptions in your banking experience. If you share login credentials with another member, you may not be able to access your online banking account as additional security enhancements are implemented.
To create separate logins, please call your local branch.
Brooklyn 902-757-2525
Windsor 902-798-5726
Kennetcook 902-362-2594
Questions?


If you're unsure of your Online Banking login credentials, need to set-up separate logins, or have any questions about the update? Please reach out to us.
Brooklyn 902-757-2525
Windsor 902-798-5726
Kennetcook 902-362-2594
or by email at
info@victorycreditunion.ca