Banking on Your Time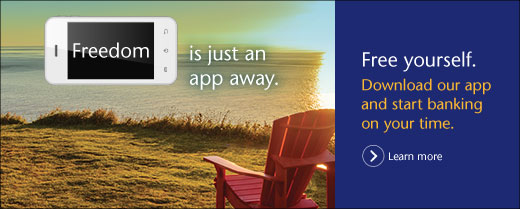 Freedom is banking on your time.
Free Yourself. Imagine sitting seaside listening to the symphony of waves crashing at the coastline. Imagine walking lazily down a quiet path listening to the leaves crinkle underfoot at each step. Imagine sitting with a thermos of piping hot chocolate while watching your kids play hockey outside on the frozen pond.
What could banking on your time mean for you? For us, it's about ensuring you have more time to enjoy life's moments. What those moments are and what freedom represents for you is as unique as you are.
That's the kind of convenience offered by our mobile banking app. We offer a complete mobile and online banking experience. At Victory Credit Union we want to ensure our members bank on their time, however they like.
Benefits of the mobile banking app at a glance:
• It's convenient.
• It's secure.
• It's free to download.
• It's easy to use.
To find out more about how to download and use our mobile banking app, view our Mobile App page.
Not yet signed up for online banking? Contact us today and we'll get you set up in minutes. Don't miss out on discovering what freedom is for you.

View our online banking demo.